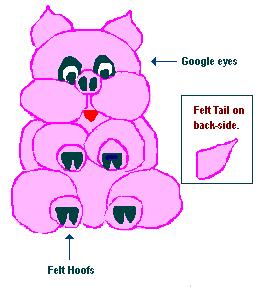 You Will Need:
One  2" pom pom for the head
One 3" pom pom for the body
Four 1 1/2" poms (flattened) for the cheeks, and lower legs
Two 1" poms for the upper arms
Five 1/2" poms for  the nose, lower arms and lower legs
Pink felt for ears and tail
Black felt for hoofs
Google Eyes
Scissors
Glue
Long Hat pins
For the flattened poms simple shape your poms with your scissors to be slightly flat on the top and the bottom instead of round.
Directions:
Once you have made all your pom poms usisng the basis pom pom directions you are ready to construct your pig!
Start by putting a hat pin throught the pom that will be the head.  Put a circle of glue around the pin point, being careful not to get glue on the pin. (very important!) Attach the head pom pom to the body pom pom.
In the same manner attach the other poms following the diagram shown.  You may have to experiment with the pom pom sizes to get the look for your piggy that's right for you.
Glue on the eyes, hoofs, ears and tail.  Allow glue to totally dry before removing pins. 
---