You've heard of Mickey Mouse, Minnie Mouse, Mighty Mouse and Jerry the Mouse.
Now...introducing the Pom Pom Mushy Mouse!
He's sure to be a hit with mouse fans!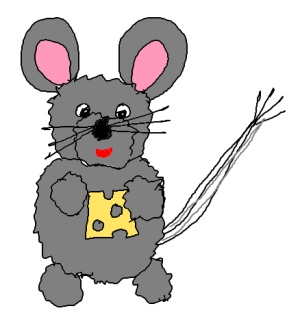 How to Make the Pom Pom Mouse
You will need the following:
One 2" gray (or white) pom pom for the head. See how to make a pom pom.
One 3" gray pom pom for the body.
One 1" gray pom pom for the snout.
One 1/4" black pom pom for the nose. If this is too difficult to make you can also use black felt. The pom pom, however, will give it a pointier snout.
Four 3/4" gray pom poms for the legs and arms
Gray and Pink felt for the ears - See diagram for felt shapes.
Red felt for the mouth
Yellow felt or construction paper for the cheese.
Gray yarn for the tail
Google Eyes
Flower Stamins with ends cut off for whiskers.
Glue & Hat Pins
Scissors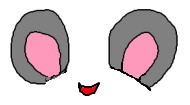 How to proceed:
Using the hat pin method for glueing pom poms, secure all body pieces together as shown in the picture.

Glue on ears and mouth. Create a tail by looping some extra gray yarn and tying it on both ends. Glue on cheese wedge.

Whiskers should be glued on last as they can be the most tricky to adhere. It may be necessary to use a thicker glue (like Tacky Glue), for this portion of your project.

Allow glue to fully dry before removing pins.