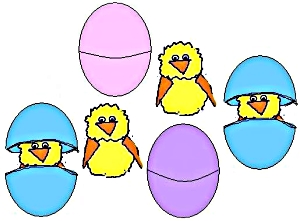 These little guys couldn't be any easier or any cuter. All you need is some yellow yarn, small google eyes, glue, hatpins, and orange felt - oh, and of course plastic Easter eggs.

Start by making two 1" yellow pom poms. See directions on how to make a pom pom

Using the hat-pin method of glueing, glue the two pom poms together.

Now cut three triangles out of the orange felt - 2 about 1" high and 1 about 1/2" high. The larger ones will be the wings and the smaller the beek. Glue felt triangle to pom poms as shown.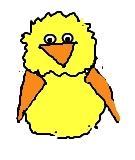 Glue on google eyes and allow chick to totally dry. Once dry you can remove the pin and put the pom pom chick inside the plastic Easter egg. Imagine your kids delight when he/she opens up the egg to find the chick! (Please note: Not recommended for very young children as they may try to eat them!)