This adorable pom pom cat was created for all the people who love those wonderful furry, fuzzy, purring creatures. Make one today and set it on your desk at work to remind you of your little one waiting for you at home.
---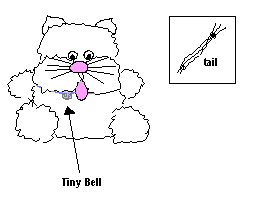 You Will Need:
1- 2" Pom Pom for head (color of your choice) Make the head and body slighly oval in shape.
1- 3" Pom Pom for body
4 -1" Pom poms for legs and arms
2- 1/2" Pom Poms for snout
Extra Yarn for Tail
Google eyes
Felt for ears and nose
3 Flower stamins with ends cut off for whiskers (or you can use thick thread)
Bright colored yarn for collar
Tiny bell
Very small crochet hook to get yarn through bell. **optional (If you can do it some other way go right ahead)
Directions:
After making your pom poms, start by gluing the head to the body using the hat-pin method. Then continue to glue on the arms , legs, and snout - same way.
Cut your felt pieces. Glue a small pink piece of felt into the middle of a white (or other color) piece to create an inner ear affect. Separate the fibers of the head pom pom at the top of head where ears will go. Apply glue and place ear. Squeeze to hold in place.
Next add your whiskers. This may be the trickiest part. I recommend tacky glue as the whiskers will hold best while drying. Place a small oval circle of pink felt over the middle of the whiskers, for the nose. Let this dry a bit before continuing or save this for the very end.
A tiny pink felt tongue is then glued to the bottom of the snout. And the google eyes are glued in place.
The tail is simply several small strands of yarn, tied together in a type of tassel. Glue the tail in place the same way as you did the ears, but separating the pom pom fibers, applying glue and tail, then squeezing to hold in place.
Lastly, string your little bell on a piece of yarn and tie it around the cat's neck for a collar.
Let dry, remove pins, and wha la! Fuzzy Feline!!