What hippo fan could resist this little cutie?
Do you know someone who likes the song,
"I want a hippopotamus for Christmas"?
Well, now you can give them one! - Makes a cute gag gift!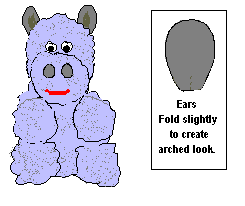 You Will Need:
1 - 2" by 3" oval pom pom for head (To make the pom poms oval simply make the pom as if you were making a 3" round pom and shape it to an oval. They often come out rather oval shaped anyways) I usually use gray yarn, although I have made them other colors upon request.
1 -3" by 3 1/2" oval pom pom for hippo body.
4 one inch pom poms for arms and legs.
1 - 1 1/2" pom for snout
Gray Felt for hippo ears and tail
Black felt for nostrils.
Red felt or yarn for mouth
Google eyes.
Directions:

Glue the head and body pom poms together length-wise using the hat-pin method.

Next glue the arms, legs and snout the same way.

Glue on your felt pieces and google eyes to finish the hippo.

Wait until he is totally dry before removing the pins
---
Hint: Try making one (or two) with red yarn for Valentine's day and adding a pink or white felt heart glued to a toothpick.