Don't wait until Easter to start these little guys. You will want a bunch of them! They are great for Easter baskets or just to sit on a shelf. The unique little rabbit would make a great hostess gift as well. Rabbit can be modified to carry a little basket of eggs, or flowers or whatever you want it to hold!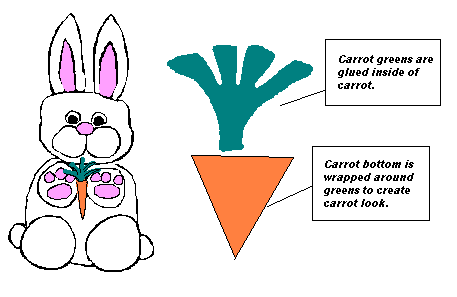 You Will Need:
1 - 2 1/2" pom pom for the head (shaped oval)- Use the directions for making a pom pom. Then simply trim with scissors to make oval shape.
1 - 3" pom pom for the body (shaped oval)
2 - 1" pom poms for the upper paws
2 - 1 1/2" poms for the lower paws
4 - 1/2" poms for the cheeks and backs of lower paws.
White, pink, orange and green felt for ears, paw pads, teeth, and carrot.
Google eyes
Flower stamins for whiskers.
Glue and scissors
What To Do

Using the hat pin method, glue the head to the body. Continue gluing the pom poms in place.

While the body is drying, get your felt pieces ready. Cut ears and inner ears and glue together. Make carrot by cutting pieces as shown, apply a thin layer of glue and roll around the greens, giving it a little twist with your fingers. As the glue dries the carrot will become hard and keep it's shape.

Once the pom pom body has dried or at least set, you can glue on the felt pieces. Allow to fully dry before removing pins.

---