This little panda bear is sure to brighten anyone's day. Experiment with different color flowers for different holidays, or change what he is holding. There's nothing that says he can't hold a little box, or a tiny bag with jewelry in it...hmmm. The ideas are endless!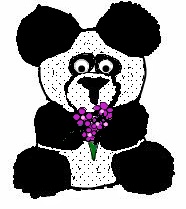 You Will Need:
1  2" white pom pom for the head
1  2 1/2" white pom pom for the body
7 1" black pom poms for the ears, arms, legs, and tail
1  3/4" white pom pom for the snout
Scissors
Glue
Small Artificial flowers
Google eyes
Black felt
Hat Pins (corsage pins)

Directions

Glue head and body together using the hat-pin method.

Using the same technique, affix the ears, arms, legs, nose and tail.

When gluing the arms, make sure you put them close together so they will look like they are holding the flowers.

Cut the felt for the nose and eyes and glue in place.  Glue the flowers in the middle of the front arm poms.

Allow glue to totally dry before removing pins.