Move Over Frosty! Here Comes Fuzzy!
Snowman are the rage nowadays! Now you can create your own "Fuzzy the Snowman". Follow the simple instructions below for this really cute, unique decoration.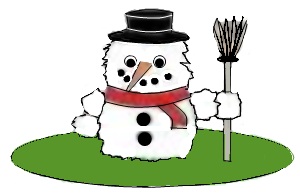 ---
You Will Need:
One white 2 1/2" pom pom for the head(See pom pom directions)
One white 3" pom pom for the body.
Four 1/2" pom poms for the arms.
Felt for hat, mouth, buttons and base.
Google eyes
Strip of felt or fabric for scarf
Cardboard for base
Cotton or fiber-fill for snow.
Wooden shish-ka-bob skewer (or other wooden stick)
One toothpick
Hay or small sticks for broom.
Gold rick rack or other fancy trim to line base (optional)
Directions
After making your pom poms, use the hat pin method of gluing to glue them together - with the exception of the arm that will be holding the broom.

For the arm that will be holding the broom, take the toothpick and stick it through two of the arm pom poms and then into the body. Ad glue to secure it in place.

While the glue is drying on the pom poms, create the other pieces.

To make the hat simply cut two circles (about 1" and 2" in diameter) out of black felt. Then cut a strip of felt, put glue (tacky glue recommended) on the one side of the strip and roll it up, creating a cylinder shape. Now glue the large felt circle to the bottom, and the smaller to the top. -- instant hat!

To make the broom attach pieces of hay or thin sticks to the end of a larger stick or piece of shish ka bob skewer. You can tie them in place, but you will probably want to add a little glue as well, so the broom doesn't fall apart.

The base is simply an oval piece of card-board covered with green felt and then bits of cotton or fiber fill ( to create a snowy look). I like to put a rim of gold rick-rack around the bottom, too, as it covers the seem between the felt and the cardboard.

The scarf is simply a strip of felt or fabric. I've even crocheted a tiny scarf. Be creative!

Once you have created all these pieces, glue them in place and start enjoying your unique decoration.
---