Great For Easter Baskets!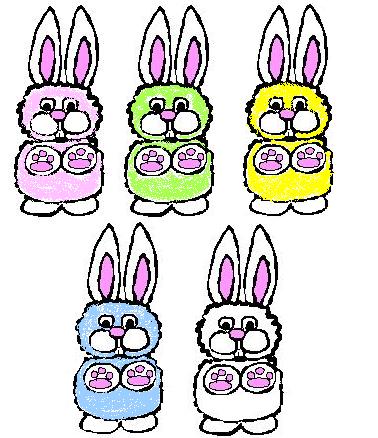 ---
These little guys are great for filling an Easter Basket and they are a quick and easy craft to make. Here's what you do: Cut the felt pieces. You'll need white ears and pink inner ears. Pink Nose. White paw pads with pink toes. (That's the hardest part because they are small). Felt feet and felt teeth. You'll also want some cute little google eyes for personality.
---
---



Now you need your pom poms. This bunny only needs two, 2" pom poms and one 1/2" white pom pom for the cotton tail. You can also use a cotton ball for the tail if you prefer. The head and body pom poms can be made out of white, gray, or whatever pastel color you want. Be creative. Lots of color looks really cute!

Once you have made your pom poms, use the hat pin method of glueing to glue them together. Then glue the felt parts on. To glue on the ears, separate the yarn on top of the head and put glue inside the separation. Then stick the ears in place. This will give you the proper look.

When the glue dries, remove the pins and create your basket, or whatever!