Don't see what you're looking for? Search Here.

These little guys are quick and easy to make. They look really cute on a refrigerator. For a different look, turn them into butterflies! Follow simple instuctions to create two different crafts out of the same basic design.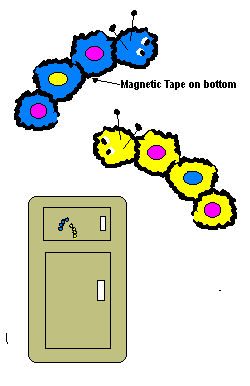 For Each Magnet You Will Need:
4 -3/4" pom poms
glue
google eyes
flower stamin cut in half for antennas
felt circles for spots
magnetic tape
Directions
After making pom poms, glue them together to form a slightly curved line. You will not need to use pins for this one.
Continue to glue on spots, eyes and antenna.
When catepillar is dry, glue a piece of magnetic tape to the back of it. If it is self adhesive magnetic tape, use some glue anyways as the original adhesive probably will not hold for long.
Allow to fully dry before using as a magnet.