An Angel for Every Occasion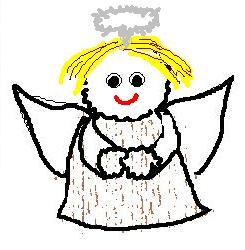 Here's an adorable and relatively easy craft to make. This pom pom angel can be made quickly and used for many purposes such as magnets, ornaments, and gift adornments. Try experimenting with different kinds of lace or fabric for the dress. If you are into primitive or country looking decor, try a homespun fabric. If you are making Christmas tree ornaments, use Christmas colors, or go with all white. The possibilities are endless. Here's how you make the basic angel:
What You Need:
Two 1 1/2" pom poms for head and body, color of your choice. See How to make a pom pom
Two 1/2" pom poms for hands- same color as head pom pom
Small piece of fabric or lace- about 1" X 4"
Felt for wings and arms
Google eyes
Silver or gold pipe cleaner for halo
Yarn for hair and mouth - your choice of colors
Glue, Scissors, and hat pins

Directions:
Using the hat pin method of glueing, glue the head and body pom poms together.


Cut your felt angel wings and arms using the model below:


Wrap the lace or fabric around the body pom pom and glue in place.
Glue wings to back, arms to front and small hand pom poms at the bottom of the arms.
Glue on hair and facial features as desired.
Form a small halo with the pipe cleaner and insert end into top of head with a small amount of glue. Let the glue dry before proceeding.
Once the glue is dry you can add a magnet to the back, or a string for hanging. You can even attach it to a shish ka bob skewer and made a garden plant stake. (Indoor plants, of course, unless you like soggy angels!)
Have Fun!